Anmatjere and Laramba to Represent CDRC at Imparja Cup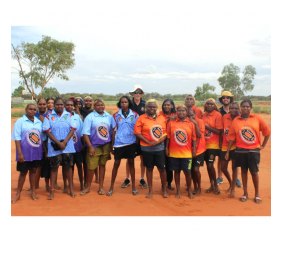 Central Desert Regional Council (CDRC) community members will travel to Alice Springs next week to compete in the 2021 Imparja Cup Cricket Carnival, which runs from 15 - 19 February. The men are represented by Anmatjere and women are represented by Laramba.
Women from Yuelamu travelled to Laramba last week to compete in an inter-community cricket game in preparation for the Imparja Cup. All players enjoyed the experience, and the Laramba community attended the game in large numbers. Laramba won the game which led to their selection to represent CDRC.
Yuelamu CDP Road Works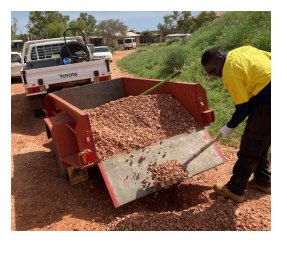 Last week the Central Desert Regional Council (CDRC) Community Development Program (CDP) worked on fixing a road in Yuelamu.
A large gully in the road made it unsafe for driving. The CDP participants filled it in with gravel and finished it off with top soil. This will stop water from travelling down it and creating even more erosion.
Now the drivers and pedestrians of Yuelamu can travel along this street safely again.
Yuelamu Tidy Town Award Comes Home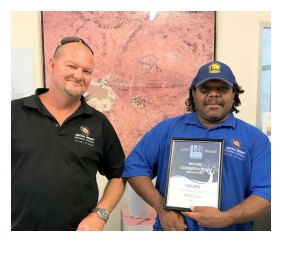 Following the win for Yuelamu of the Water Conservation (Innovation) award in the 2020 Territory Tidy Towns Awards online, Central Desert Regional Council (CDRC) Senior Administration Officer Yuelamu, Norman Hagan, received the physical award on behalf of Yuelamu from Regional Services Manager, Jason McKissock.
This was not the first time Yuelamu won the Water Conservation Award, winning it back in 2017, but it was the first time that the awards ceremony was held online.
Photo: Jason McKissock (left) presented Norman Hagan (on behalf of Yuelamu) with the award.
Engawala Flood Clean Up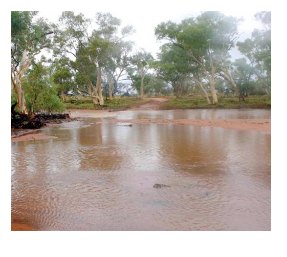 The recent heavy rainfall of 260mm in Engawala caused minor flooding including blocking the access road. Once the water went down the Central Desert Regional Council (CDRC) Engawala Works Team got to work cleaning up the road to make it a smooth crossing.
Main photo: The Engawala access road, with Waite Creek flowing across it.