Our Council
Learn about the Central Desert Regional Council's council, wards, elections, some quick facts and meet the elected members.
The Central Desert Regional Council is made up of 12 members who are elected by the constituents from the four Wards that make up the Central Desert region. The council is charged with carrying out duties under the provisions of the Local Government Act and Regulations. It is a decision and policy making body with CDRC staff being the means by which these decisions and policies are carried into effect. A President and a Deputy President are elected by the members of the Council, with the role of Deputy President changing every 12 months.
On 28 August 2021 a general election was held across the Central Desert region. Click the link CDRC Elected Members for the Central Desert Regional Council's fifth term members. Only Anmatjere needed to vote, as the other wards received enough candidates or below the number of positions available. Click this link CDRC Election Results to view details of the election in Anmatjere.
---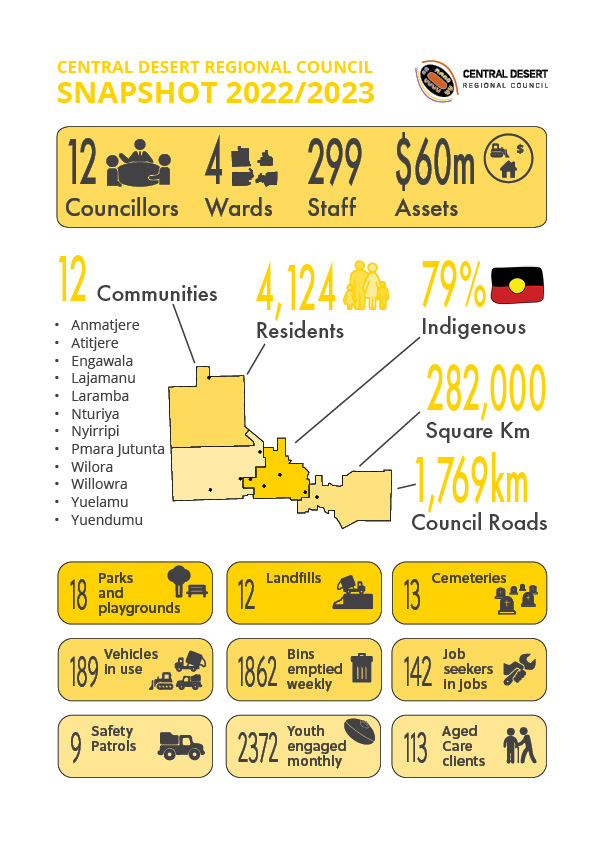 Information Suppression
Under Section 293 of the Local Government Act a person may apply to have their name or name and address suppressed from publicly available information. To apply for suppression of information under this section of the Act, please apply in writing to:
Chief Executive Officer
Central Desert Regional Council
PO Box 2257
Alice Springs NT 0871