Aged Care Planning Days in Alice Springs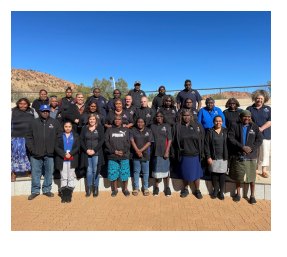 On 23 and 24 June, Aged Care staff from all of the Central Desert Regional Council (CDRC) Aged Care Centres - Anmatjere, Atitjere, Engawala, Lajamanu, Laramba, Nyirripi, Wilora, Willowra and Yuelamu came together in Alice Springs for two days of training with Culturally Directed Care Solutions (CDCS). CDCS assists remote aged care services to be more efficient, meet compliance standards and provide quality care to their target group.
CDRC is dedicated to training its staff to create the best possible outcomes for its residents.
Photo: The CDRC Aged Care staff.
Yuelamu NAIDOC Celebrations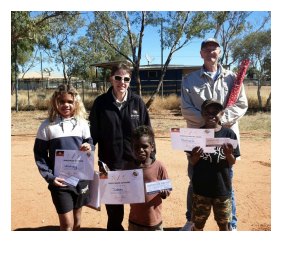 Yuelamu had a good turnout of around 50 people for NAIDOC celebrations on 24 June, early to coincide with the term two end of school farewell. It was held in the Yuelamu School grounds with Traditional Owners and Central Desert Regional Council (CDRC) Councillor David McCormack present for the combined celebration.
As part of the CDRC NAIDOC Art Competition, the school children were passionate about creating art. There were different styles of hut structures from different States of Australia from the senior class, and the Junior Primary created art on canvas. The art pieces are on show in the Council office area for residents to view and to add a colourful vibe in the Centrelink office.
Aged Care Receive COVID-19 Jab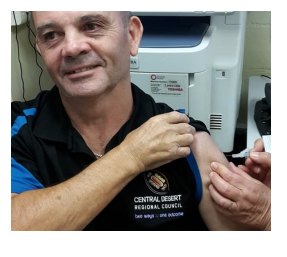 Central Desert Regional Council (CDRC) Aged Care workers are now being vaccinated with the Pfizer vaccine. In Engawala, all staff and clients have been fully vaccinated, having received two shots. The staff were a little unsure at first but after Traditional Owner Kevin Bloomfield volunteered to go first the staff followed.
In other communities the staff have had only one shot, and in others still they are waiting for the next round of vaccines to arrive.
Photo: Wayne Porter, Aged Care Coordinator in Nyirripi, receiving his first Pfizer vaccine shot.
Atitjere and Engawala Aged Care Training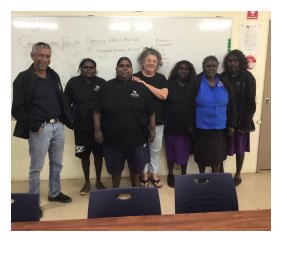 Atitjere and Engawala Aged Care staff are currently completing a certificate II in Family Wellbeing with Batchelor. The training, taking place at Engawala and Atitjere, is a program that addresses the physical, mental, emotional and spiritual issues that impact on an individual's wellbeing, family unity and community harmony.
Through the certificate, staff will gain knowledge on how to face their own personal issues and to help others in community when help is needed, especially Aged Care clients.
It will also open a pathway to higher level qualifications in Aged Care for the staff.
Another Prime Mover Driver for CDRC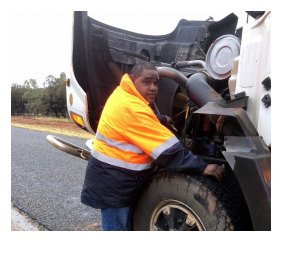 Cyril Kunoth (Central Desert Regional Council (CDRC) Yuendumu Roads Team Leader) passed his Heavy Combination (HC) driver licence training on Wednesday 23 June. He can now drive the CDRC prime mover and trailer which is used to cart heavy machinery between sites.
This is usually a tough test which includes a theory part and a three hour practical test, including everything from controlling the truck to coupling/uncoupling the trailer and securing loads. He didn't make it in his first attempt which shows just how tough it is, but he did pass his second attempt.
Anmatjere NAIDOC Celebrations Early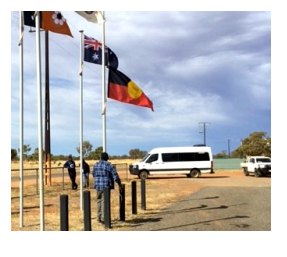 Anmatjere celebrated their NAIDOC Week early on Tuesday 22 June at the Central Desert Regional Council (CDRC) office in Ti Tree. NIADOC Week is July 4 – 11 this year but Anmatjere got in early so Ti Tree School could be involved. This year's theme is 'Heal Country!'
There was a great turnout for the event, including local community members from Ti Tree town, Pmara Jutunta, Nturiya and Wilora, Traditional Owners, CDRC Local Authority members and Councillors, CDRC staff, Local Police and Liaison Officer and of course special guests Ti Tree School. The school students participated heavily in the NAIDOC Art Competition and produced some fantastic artwork, with the winner to receive a prize of $20 voucher to spend at Ti Tree Farm Garden.
CSP Conflict Resolution Training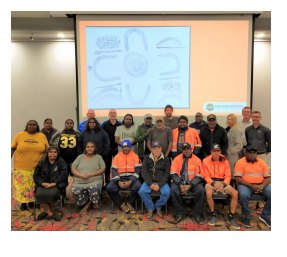 On 6 June, Central Desert Regional Council (CDRC) Community Safety Patrol (CSP) teams from Yuelamu, Laramba, Nturiya, Pmara Jutunta, Atitjere, and Engawala travelled to Alice Springs for three days of training in Introductory Mediation and Peacemaking. The program was delivered by Troy Degenhardt and Matthew Panayi of Northern Territory Alternate Dispute Resolution.
Over the three days, the group discussed traditional processes of dispute resolution and peacemaking, and were surprised to find that they were so similar to a formal mediation process.
Intercommunity Softball Tournament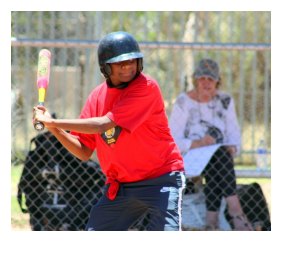 Players from Atitjere, Engawala and Laramba will travel to Ti Tree on Wednesday 23 June to play in the Central Desert Regional Council (CDRC) Intercommunity Softball Tournament. The four communities will play in a round robin competition, with the winner to represent CDCR at the upcoming Mparntwe Shield in Alice Springs.
It is expected that there will be a big crowd and the Pmara Jutunta community will make plenty of noise to support their home team.
Games will commence at Pmara Jutunta softball oval from 11:00am, with a community BBQ from 12:30pm. There will be giveaways for participants and medals for those lucky enough to win the tournament.
Mobile Reception in Nyirripi, Engawala and Laramba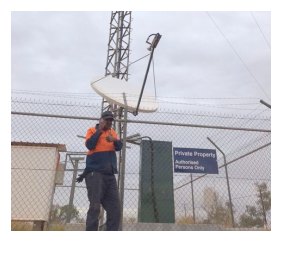 Nyirripi, Engawala and Laramba now have mobile phone coverage.
Central Desert Regional Council (CDRC) has had 4GX-lite Satellite Small Cells installed in the communities with funding assistance from the Federal Government.
The Small Cells, installed and maintained by Telstra, will give residents access to email and basic data and voice calls and text with a phone, tablet or other compatible device.
Shade Structures in Lajamanu Park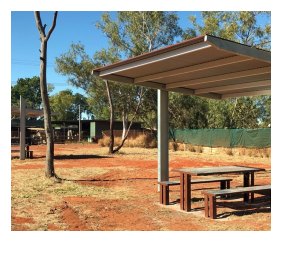 Two new shade structures were built in Rex Patterson Park in Lajamanu last week as part of a Lajamanu Local Authority (LA) project.
The park is opposite the shop, which makes it a great location to get together and share some food or to wait for the bush bus.
Photo above: The completed shade structures with tables and benches.