Business with Council
Central Desert Regional Council actively supports economic development across the region and aims to supports local business and business opportunities. This approach is supported by strong governance arrangements as per the Local Government Act.
Purchase Orders
When you conduct business with Central Desert Regional Council we have protocols that we follow. Click this link to view our Purchase Order Terms of Business.
Tenders
To view open tenders and apply for them visit the E-Procurement Portal or click on the portal button below.
Open and successful tenders, Request for Quotes, and Public Notices are available for viewing by clicking here: Tenders.
Council seeks to ensure best value for money procurement and transparent processes. Therefore, the Council has introduced an electronic procurement process.
ELECTRONIC PROCUREMENT
Council tenders, quotes and expressions of interest are advertised in the Public Notices of the Classifieds section in The Centralian Advocate at the commencement of a tender period. A summary of open tenders may be viewed below.
Suppliers must be registered on the Central Desert Regional Council's E-Procurement Portal to be eligible to tender. Any canvassing of elected members or Council staff in relation to tenders shall result in the proposals being automatically disqualified. Council reserves the right to accept or reject any tender.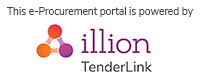 For any questions relating to the E-Procurement Portal please contact Tenderlink directly on 1800 233533 or email This email address is being protected from spambots. You need JavaScript enabled to view it.
For questions relating to the content of the tender please refer to officer identified within the tender documentation or contact the Council on (08) 8958 9500.
Central Desert Regional Council's ABN is 93 873 628 303.